Tokachigawa Hot Spring Sanyoan – a fine spa resort offering a treat for the five senses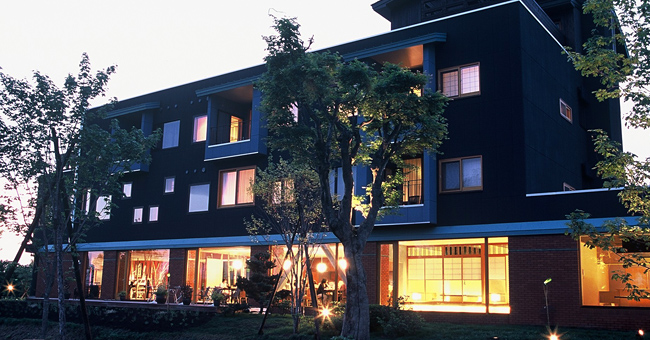 Forget the daily grind and unwind at your leisure.
Sanyoan
The name Sanyoan comes from the great educator Sanyo Tsuchiya, a mentor of the Tokachi and Obihiro region's pioneering forefather Benzo Yoda. Tsuchiya believed in an old Chinese teaching that says farmers should study by reading between stints of farm work, particularly at three specific times (sanyo in Japanese, lit. "three extra times"), i.e., in winter, at night and on rainy days. He even changed his first name to Sanyo and advocated the importance of this teaching. These three times can be considered to represent affluence of the mind. Sanyoan offers the same quality time and space that these periods would provide.
Forget the passage of the years, spend a day relaxing free from all care and enjoy time at leisure – this sanyo spirit is truly something to be savored. Wind down both physically and mentally, and experience the ultimate in relaxation and peace of mind.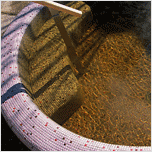 Hot spring
Botanical moor hot springs are found only in two places in the world. Wild plants accumulate underground over the ages and biodegrade to form a lignite layer. During this process, humic substances and humic acid are produced and dissolve into groundwater, which gushes up as a hot spring. Since this type of spring contains more organic botanical nutrients than mineral components, it is referred to as a botanical hot spring. It contains sodium chloride and bicarbonate making it a weak alkaline, hypotonic, high-temperature spring. Such springs are known as spas for beauty because of the skin smoothening and moisturizing effects provided by their rich natural moisturizer content.

This vegetative moor hot spring is a rare spa resource in Japan. In 2004, it was designated as a Hokkaido Heritage facilit;y ahead of many other hot springs in the prefecture as part of the region's tangible and intangible properties to be handed down to future generations.<>
Fugetsu Large Bathhouse
With a traditional Japanese cypress bath, a tiled bath creating a nostalgic air and a lie-down bath for total body immersion, guests can slowly unwind by thoroughly warming up their fatigued bodies. There is also an open-air bath.
15:00 – 10:00 the next morning
(21:00 – 21:15: Male/female usage changeover time)
* Bathing facilities are available to overnight guests only.
Guest rooms
Guest rooms are named after novels and other literary works in accordance with Sanyo's teachings, and each one has a distinct color tone and layout. There are Japanese-style rooms (measuring 10 to 12 tatami straw mats in size) and rooms with Western-style beds. Each room provides a space for relaxation and includes a private open-air bath made from Japanese cypress grown in Akita Prefecture in addition to other amenities and living space.
Special room with private open-air bath
Japanese-style room with private Japanese cypress bath
Western-style room with private Japanese cypress bath
A sense of tranquility provided by indirect lighting
The building features illumination art by famed lighting designer Reiko Chikada, providing a sense of tranquility based on indirect lighting.
Reiko Chikada
Ms. Chikada is a lighting designer and CEO of Reiko Chikada Lighting Design, Inc. She received a Bachelor of Fine Arts degree from Tokyo University of Fine Arts and Music, and is a professional member of the Illuminating Engineering Institute of Japan (IEIJ) and a member of the Illuminating Engineering Society of North America (IESNA). She has designed numerous public facilities and parks, including the Ibaraki prefectural government building, the Museum of Modern Art in Saitama, and Shuri-jo Park. She was also in charge of lighting for the Kyushu-Okinawa Summit 2000 Social Dinner at Shuri-jo Castle in 2000.
Producing a Japanese atmosphere using natural materials
Living spaces in the hotel's guest rooms have pinewood floors and plaster walls. Bedroom spaces feature handmade Japanese paper walls and Ryukyu tatami mats. Butterbur-design Japanese paper is also used.
A luxurious level of relaxation
We offer a total of 23 kinds of yukata (informal cotton kimono) with different colors and patterns in addition to six types of pillows, including the pressure-relieving Tempur type, a type stuffed with buckwheat husks and one containing negative ion-producing tourmaline. Guests are free to choose their preferred pillow type.
Dishes
Shunju Main Dining Room
Appealing to the five senses with a sense of live performance
We place emphasis on the sense of live performance created by our open kitchen with the aim of appealing to guests' five senses of sight, touch, smell, taste and hearing. We serve creative Japanese cuisine cooked from premium Hokkaido ingredients, particularly those from Tokachi. Hairy crab and fresh seafood are carefully chosen from the Tokachi and Hiroo regions, and our beef comes from cattle raised on natural feed. In autumn, we also use local wild plants for dishes. The menu is changed at least every two months.

*Typical dish

*Typical dish

*Typical dish

*Typical dish
Hearth rooms are also available.
The establishment has three charcoal hearth guest rooms bearing the names of the three sanyo times – the Winter Room with two to six seats, the Night Room with two to six seats, and the Rain Room with two to eight seats. Each room has walls covered with Japanese paper to fit in with the atmosphere. The Japanese paper used for the Winter Room contains linden tree leaves.
Raffine Aromatherapy Salon
This is a genuine aromatherapy salon supervised by Chiyoko Kusakabe, one of Japan's leading phytotherapists and aromatherapists. All options, along with the treatment techniques and oils used, are custom-tailored based on counseling in order to offer a personalized level of hospitality. The extent of treatment for specific parts of the body and the whole body can be chosen depending on individual preference. Treatment also helps to realign musculoskeletal structure, thereby easing fatigue.


Aroma lounge


Treatment oil


Chiyoko Kusakabe
All oils used in the salon are made in France by aromatherapy pioneer Dr. Jean Valnet, and are of medical grade quality. In addition, carrier oils and other products used are all non-chemical and organic. Various skin disorders, such as ultra sensitive skin, can also be treated through our courses that offer both safety and a sense of security.
14:00 – 23:00
* All courses are also available for men.
Facilities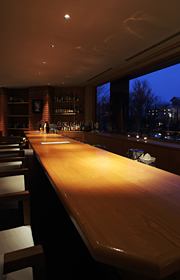 Michi Kusa Bar
(five seats)
The bar was named after a work by Natsume Soseki – one of the foremost Japanese novelists of the Meiji era (1868-1912). Guests can enjoy high-quality local sake, wine, shochu distilled spirit and more.
Daiginjo, the highest grade of sake, along with Sanyoan's original label and Kagoshima Prefecture's prized Seiko-udoku shochu (distilled from sweet potatoes) are also available. At night, the bar affords great views of the illuminated Tokachi Chuo Bridge over the Tokachi River.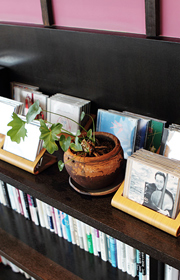 Ryoshu Library
Sanyo's spirit of hospitality is related to the Japanese saying Seiko udoku, which can be translated as "Farm when it's sunny, read when it rains." The library showcases Japanese and overseas literary works, including those after which the hotel's 11 guest rooms were named. Publications on the natural features of Hokkaido and Tokachi are also available. Immersing yourself in reading or listening to music and forgetting the passage of time can be fun. This is a luxurious experience exclusive to Sanyoan.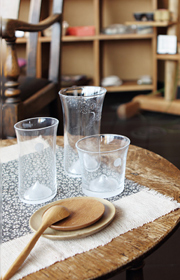 Sanyoan Shop
CDs of healing music are also available, including ambient works entitled Ongaku Kiko Tokachino and Tokachi no Mori (EM-JAGA labels) composed by Junichi Kamiyama with Tokachi's pristine natural environment as inspiration.